AN EXCLUSIVE GIFTING EXPERIENCE
Personal or work – welcome kits, anniversaries, birthdays, townhalls, events, high level meetings or even merely a high tea celebrating the most important asset in any organization – its employees, consider yourself sorted. From boutique celebration to big events, we have you covered.
We offer guaranteed delivery days, so you can be rest assured that you won't be without a gift when you need it. We ship these goodies & hampers to any location such as hospitals, colleges, business to make those events a whole lot more memorable.
Our packaging is 100% eco-friendly as we make sure that there is no damage to your goodies. We could keep talking about how confident we are that you, your family and friends will love our cake gifts and other sweet surprises, but you probably should take a good look at the list of lovelies right about now. So, without further ado feast your eyes on all the fun we've got in store for you.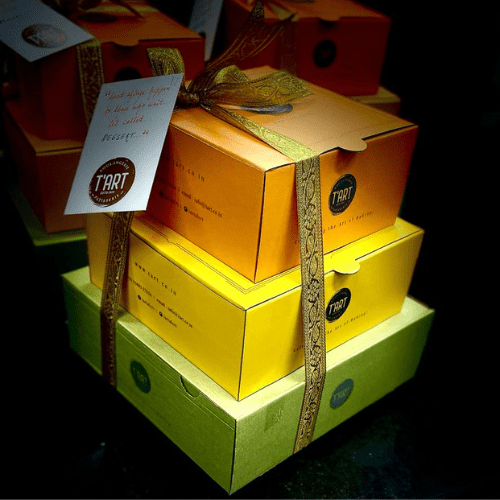 Corporate Catering by T 'ART
T'ARTistry At The work place
Our well known & loved baked products come to you, impeccably arranged and ready to serve. Our elegant treats add style & taste to any special corporate event & prepared to utmost attention to detail.
We would love to create & curate a custom spread for you which we can deliver to anywhere you choose – whether home or office or events spaces. We take extra care to ensure that all the food arrives fresh and in time to welcome and woo your – now our guests.
Overall, we make sure to render the best – unforgettable memories for your teams as we ourselves seek in exceeding our guests' expectations.